The Active Seniors Class is a light exercise class for seniors who would like to work on developing strength, mobility, and flexibility at their own pace. The classes are offered every Monday, Wednesday and Friday from 10:00 AM-11:00 AM.
Check out the flyer for more information on the Active Seniors Class HERE.
Participants are able to use a chair during their exercises as well as have the option of opting out of any exercise they may not feel comfortable participating in. These classes offered at no charge and are currently being held on Zoom.
If you plan to attend the Active Seniors class, please RSVP by emailing pncenter@gmail.com or by calling (540)483-1518. Information on how to access the Active Seniors Class on Zoom will be emailed to you.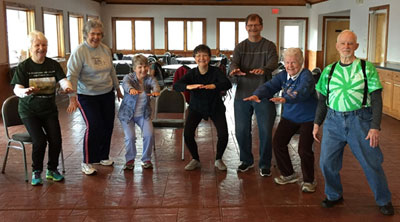 Subscribe

to our e-mail list to stay informed about Active Seniors Class, as well as other happenings at Phoebe Needles Center, Inc.
I can tell that I am stronger, and I have better balance and more stability. My husband Johnny can tell a difference. I love the community!
The major thing for me is the camaraderie. The community is my favorite part: getting to know one another and the friendliness of the group. I like what it does for me physically. The actions are good for my body, and it helps with my stability and strength