We had a great 2023 Camp Season! Thank you to all the Campers, Staff Members, Parents, and Volunteers who helped to make Summer Camp 2023 @ Phoebe Needles possible! We couldn't have done it without YOU!
Please check back in March 2024 for information on our upcoming Summer Camp Programs!
General Residential Camp Information
Background
Since its beginning in 1999, we have served more than 200 young people each summer using a staff of 10 to 12 college aged counselors. In many ways the developmental experiences have as profound an impact on the staff as they do on the campers. We seek to make the camp available to all young people without regard to their ability to pay. Our camp fee for 2023 is $250 per camper. This includes six days and five nights of a residential camp, all meals, program supplies, and activity fees. The cost to the Center is approximately $500 per camper. We rely on contributions from individuals, churches, businesses, civic organizations, and grants from foundations to fund the difference between the fee charged and the actual cost. We also offer scholarships to approximately 40% of those who come to camp.
Our camp has been tremendously successful over the years because of the commitment of the staff and the unique skills and talents they bring. For the past 22 summers, we have had one or more international staff members. They have come from England, Wales, Slovenia, Poland, Scotland, Sweden, Germany, Ireland, Australia, France, Jamaica, Mexico, Turkey and New Zealand. They have added a great deal and broadened the perspective of our camp program. In addition to the very competitive salaries we offer, we spend approximately $500 per staff member for training. Each member of the staff receives two weeks of training on basic camp counseling, certification in first aid and CPR, high and low ropes course facilitation, and rock climbing and rappelling certification.
If you attended summer camp when you were growing up, you probably have fond memories of counselors, activities, challenges, and fun adventures that made it a great experience at the time. However, looking back after years later, you have likely realized just how formative those summers at camp really were.
The Camp Program
Our Residential Camp programs are for rising fifth through twelfth graders. We operate nine camp sessions during the summer. In addition to our basic camp activities, such as hiking, arts and crafts, swimming, and having campfires, we also have special camps that are focused on nature and the environment, rock climbing and rappelling, community service, backpacking, camping, caving, and climbing. All of these programs offer real challenges in an environment that is safe.
Residential Camp Descriptions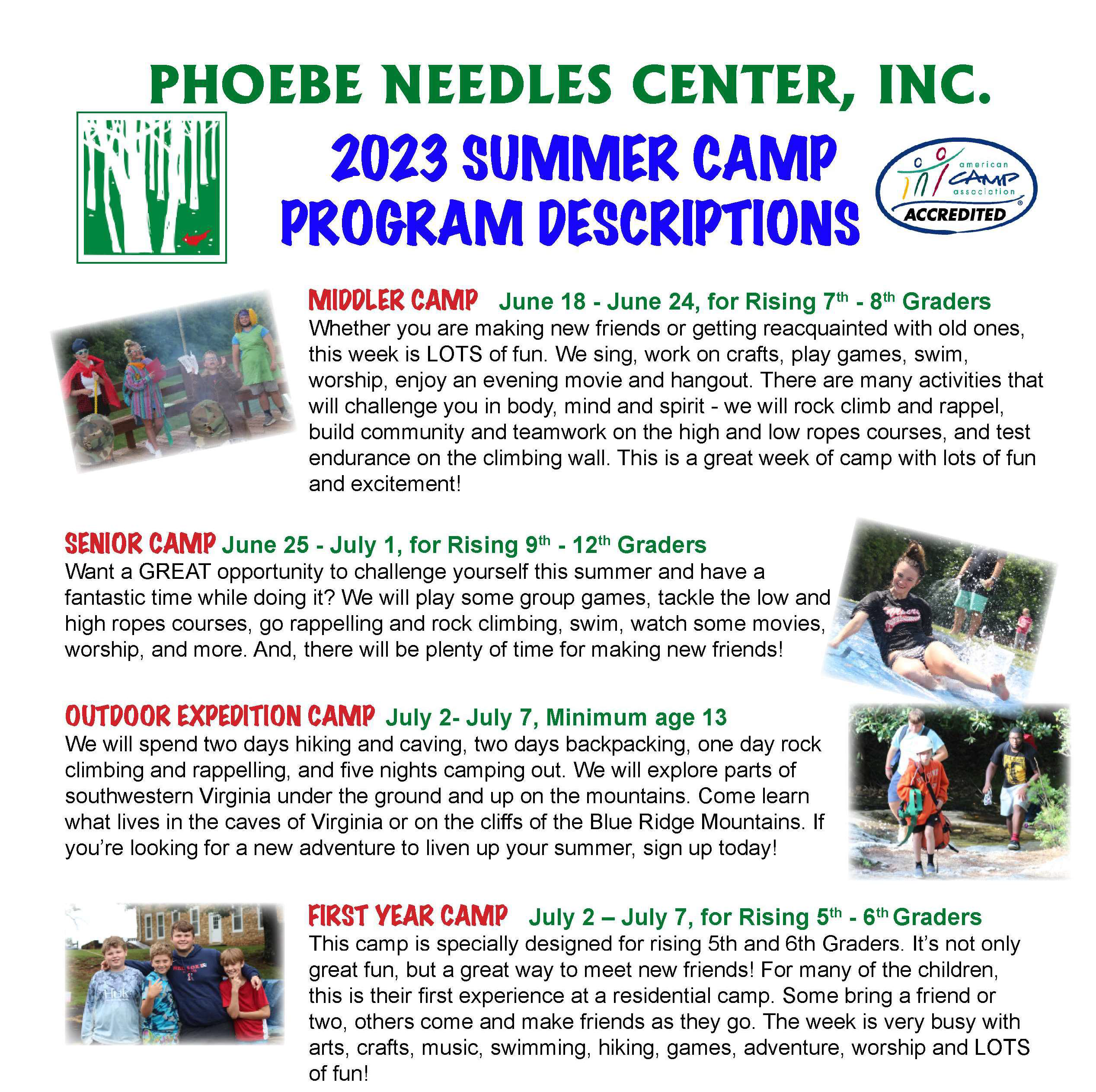 Residential Camp Schedule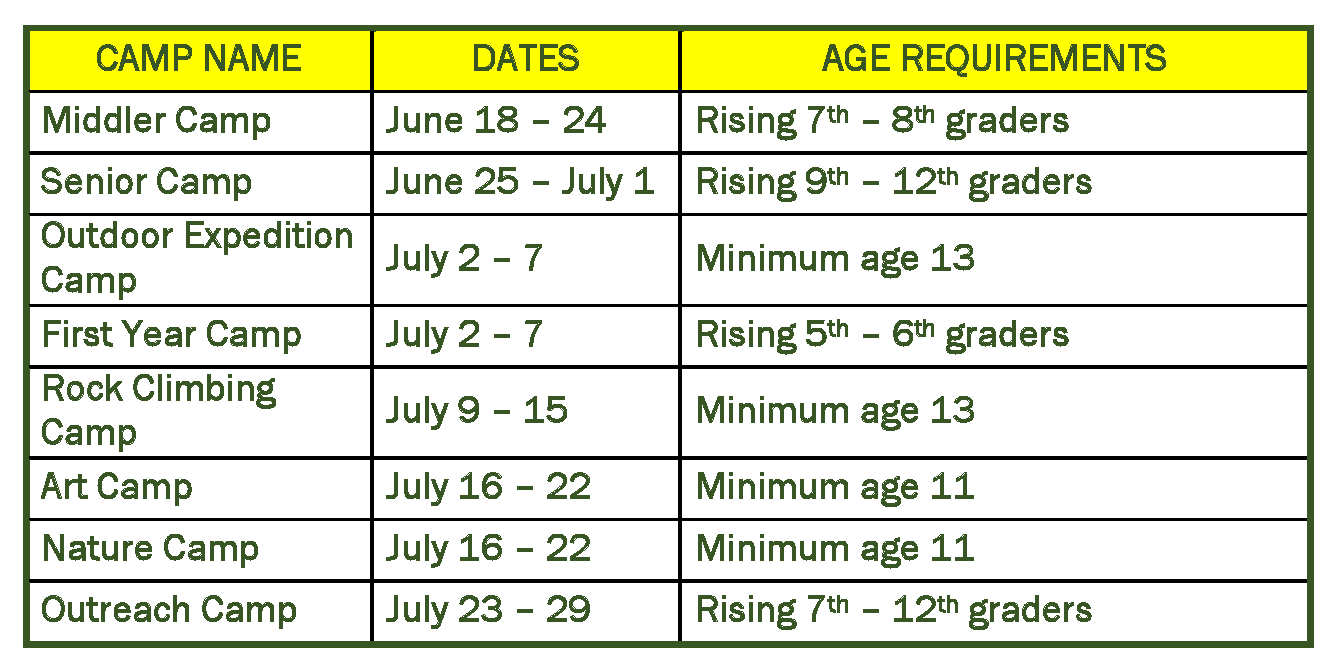 Residential Camp Pricing & Discounts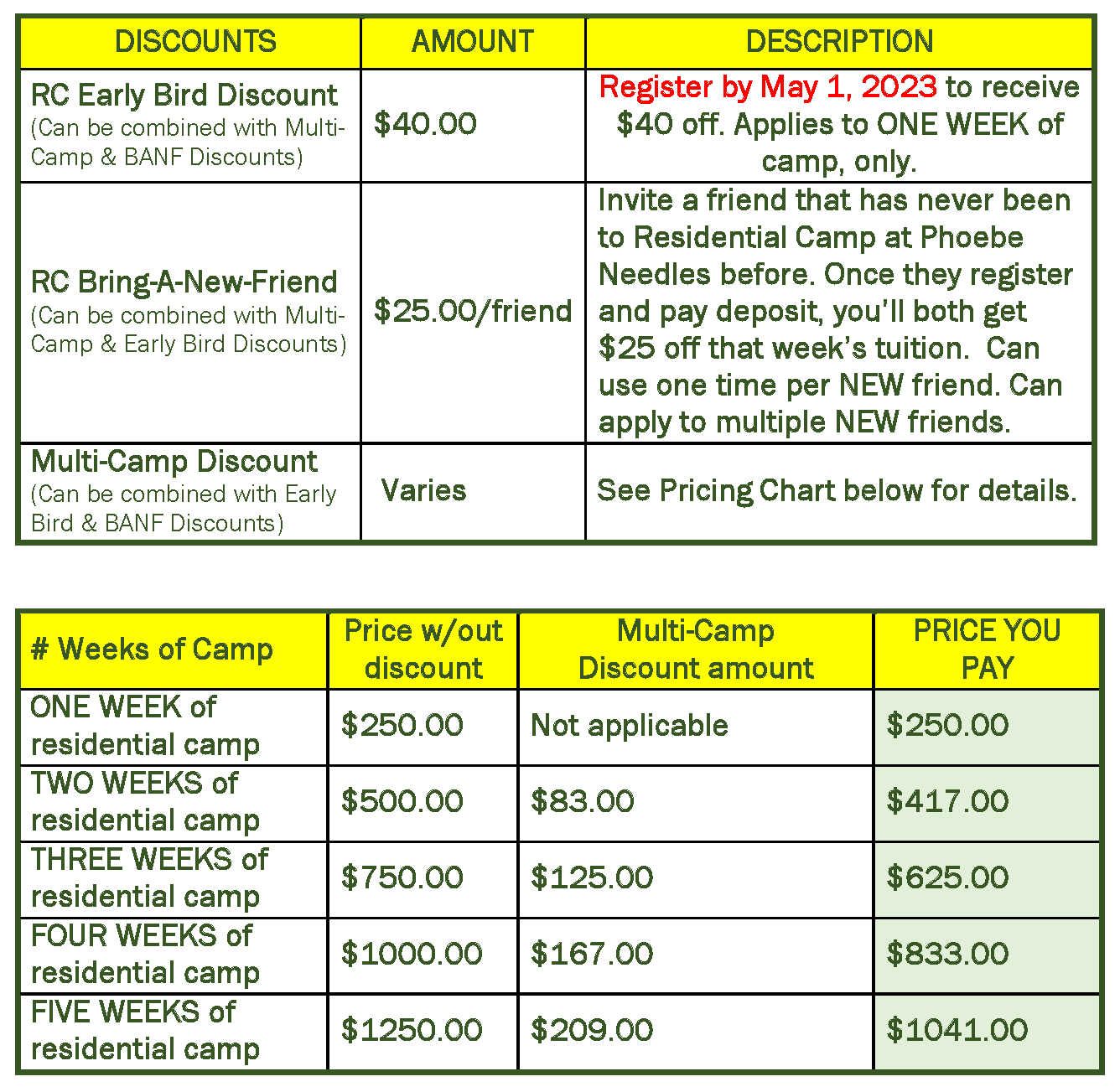 How to Register & Pay for Residential Camp
Registration is complete when we have received the following:
1. Residential Camp Registration Form (fillable PDF)
2. Residential Camp Medical Form (fillable PDF)
3. Deposit of $50.00 per week of residential camp attending. **Note: The $50 deposit per camp is required to hold the camper's place in camp. Some of our camps fill up quickly! The remaining balance (total camp tuition minus deposit paid) is due at camper drop off on the day camp begins. The total balance can be paid at any time between registration and the first day of camp. If paying on the first day of camp, please bring a check or cash.
To register by email: Complete the forms listed above and email to PNCenter@gmail.com.
To pay online: Click on the "Pay Now" button below.
To register & pay by U.S. Mail: Complete the forms above and mail with check made payable to Phoebe Needles Center, Inc. to:
Phoebe Needles Center, Inc.
732 Turners Creek Road
Callaway, VA 24067
Need-Based Scholarship Information
Do you need help paying for summer camp tuition?
Apply for the Alaina Mentkow Summer Camp Scholarship
The average amount of scholarship awarded is $84 dollars for Residential Camp programs. Each family is asked to contribute 1/3 of the camp tuition and to find another source (e.g., church, relative, civic organization, or friend) to provide an additional 1/3 of the camp fee. This amount fluctuates based on need on a case-by-case basis. It is possible to receive discounts and a scholarship.
What does camp look like? Check it out!
Frequently Asked Questions
What time should I drop off and pick up my camper for a week of Residential Camp?
Campers can be dropped off between 3:00 p.m. & 4:00 p.m. on the Sunday beginning the camp week. They may be picked up at 11:00 a.m. on Saturday at the end of their camp week. HOWEVER, those attending First Year Camp, Outdoor Expedition Camp, will be picked up at 5:00 p.m. on Friday.
Will family members count towards the Bring a Friend to Camp Discount?
No. Family members do not count.
If I have been to Day Camp, but this is my first time at Residential Camp, do I qualify as a friend that has never been to camp at Phoebe Needles?
Yes. As a former Day Camper, you have never been to Residential Camp at Phoebe Needles, so this will count towards the Bring a Friend to Camp Discount.
How much scholarship will my child get for camp tuition?
The average amount of scholarship awarded is $84 for Residential Camp. Each family is asked to contribute a minimum of 1/3 of the camp fee and to find another source (e.g. church, relative, civic organization, or friend) to provide an additional 1/3 of the camp fee. Various amounts are awarded on a case by case basis in regard to the amount of need. Call our office at (540) 483-1518 for more information regarding how much aid you may receive. Anyone may apply for and may receive a scholarship.
What should I do if I want another parent/guardian to pick up my child from camp?
Per our policy, you will have to sign a permission slip listing the name of the parent/guardian that will pick up your camper on a particular date. This should be done in advance unless extenuating circumstances occur.
If I apply for a summer camp scholarship, can I still receive the summer camp discounts that are offered?
Yes, you can receive both a scholarship and summer camp discount(s).
I need to pick up my camper early. Is that possible?
Please provide notice in advance via email to pncenter@gmail.com or by calling the office (540)483-1518.
I have paid a deposit for my camper, but now my youth is unable to attend. May I receive a refund?
Deposits are nonrefundable.
Do you offer military discounts on camp tuition?
Phoebe Needles Center, Inc. offers a free week of camp to children that have a parent(s) that is actively deployed in the military.
Do you offer discounts for campers that have a parent in the corrections system?
Phoebe Needles Center, Inc. offers a free week of camp to children that have a parent(s) that is currently incarcerated.
When is the deadline for camp registration?
Although there is no firmly set deadline, we prefer to have all registration materials two weeks prior to the start date of the camp for which you are registering.
May I call my camper during camp week?
Campers are not accessible by phone unless an emergency occurs or if the camper has been homesick for more than 24 hours. However, you may write a letter to your camper.
My camper has specific needs, and I am unsure if he or she may fair well during a week of camp. What should I do?
List any information we should know about your camper on the medical form during the registration process. Please discuss your concerns with our Office Manager, the Director of Programs, or the Executive Director at (540) 483-1518 or pncenter@gmail.com.